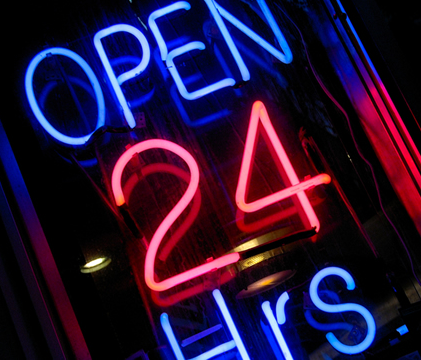 One of the most common complaints about contractors is that they fail to communicate or are generally inaccessible. Amazingly enough, many contractors are even guilty of not returning phone calls -- a habit that can drastically harm their reputation and their chances of acquiring new business. This is a clear mistake, one that you're probably (hopefully) not making.
But is it possible that you're committing other, less obvious communication errors? How accessible are you to your current and potential customers?
Here are some ways that you can make yourself more available and build a more loyal client base in the process.


Offer multiple means of contacting you.
While a lot of clients will prefer to speak with you over the phone, this is not true for everybody. Some people simply feel more comfortable communicating via email or even texting. That's why it's important to provide several different ways for customers to get in touch.
Wherever your contact information is given, be certain to list your phone number, your email address, and a link to your website. You can even offer your Facebook URL so that clients can message you or post a comment on your "wall". However clients prefer to contact you, ensure that it's an option for them, and that they will have no trouble reaching out when they need to chat.


Put your contact info in more than one place.
Some contractors think it's enough to list their contact information solely on their website. But not all customers will visit your site when setting up estimates, and the last thing you want is to be overlooked because your contact details weren't provided elsewhere. Avoid this error by making sure that your information is visible in various places, both online and on paper.
Your phone number, email address, and website should appear on your Facebook, Twitter, LinkedIn, and other social media pages. You should also have business cards containing these details, as you never know when you might speak with someone who needs a contractor (or has a friend who needs one). Greater visibility means a greater chance of being discovered, which ultimately translates into a higher possibility of landing a job.


Add some CTAs.
Even your most eager clients might need some prompting before they take the next step. This is why it's crucial to have several, clear calls to action on your website and social media pages.
A 'call to action' (CTA) is anything which encourages the customer to take the next step, whether this is to "Find out more", "Get a quote", or "Contact us". This typically appears as a button or web form and is designed to grab the client's attention. Below is an example.

Having a CTA on every web page is a good way of nudging the client in the right direction. Likewise, you won't have to worry about losing business because customers weren't sure how to move forward with the process. This addition will improve your communication with clients and help you to better accommodate their needs.


Have a detailed voicemail greeting.
Although you can't always be on-hand to answer questions and deal with concerns, by having a sufficiently detailed voicemail greeting, you can still demonstrate to your customers that you're accessible and dedicated to great service. Include a greeting that is enthusiastic and provides ample information -- something that makes callers want to leave you a message. Your voicemail greeting should incorporate your name, your company, an apology for being unable to take the call, and a statement that you will call back as soon as you're able. A thorough greeting will make you seem more personable and provoke a better response than if you simply say, "This is Bob, leave a message." Create a greeting that is professional, engaging, and which promotes further communication. Chances are, the client will be looking forward to hearing from you.


What's next?
5 Home Page Design Mistakes That Are Costing You Business As one of the first things that potential clients will see when researching your company, your website home page is of utmost importance to your marketing strategy. This is where you build your brand and show the world who you are and what you stand for. It's your...Continue Reading
3 Ways to Test and Track the Success of Your Marketing Tactics Without careful analysis, how can you truly understand which marketing efforts are working -- and which you should discontinue altogether?...The short answer? You can't. Even if you've read every business success story out there, because every company is different, there's...Continue Reading